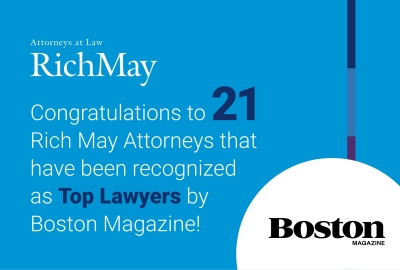 Congratulations to Rich May's 2023 Boston Magazine Top Lawyers!
Rich May is proud to announce that twenty one of our attorneys have been recognized by Boston Magazine as Top Lawyers.
Boston Magazine created their inaugural Top Lawyer guide by using a multiphase process. First, they surveyed lawyers in the area as a peer review by practice area. Then the highest-ranking lawyers in each practice area were identified and an advisory board of select lawyers reviewed them, choosing lawyers for their credentials and the high number of votes they received from their peers. Resulting in a credible, comprehensive, and diverse listing of exceptional attorneys.
Rich May attorneys were recognized for their expertise and experience in the law firm's diverse practice areas including Business/Corporate, Litigation, Securities and Corporate Financing, Energy and Natural Resources, Trademark and Copyright, Employment, Investment Management, and Real Estate. The following 21 attorneys were selected:
To see the full list, visit Boston Magazine's website.