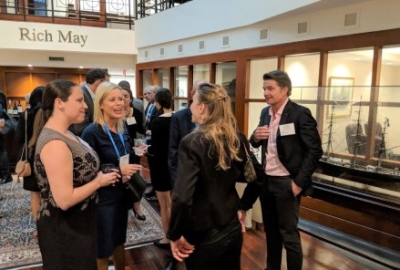 Rich May Hosts Ally Law Reception at the 2019 International Trademark Association Conference
On May 20, 2019, Rich May, P.C. hosted the Ally Law Reception at the 141st Annual Meeting of the International Trademark Association (INTA) Conference.
The 2019 INTA Annual Meeting was the largest in INTA history, with over 11,000+ member attendees, exhibitors, sponsors, and media partners. Members in attendance at the Ally Law Reception represented law firms from Lagos, Lima, Paris, Melbourne, Montreal, Zurich, Hong Kong, London, and several major cities in the United States.
Approaching their 30th anniversary in November this year, Ally Law is a major global network of 70+ independent law firms and 2800+ lawyers from 45+ countries. Ally Law members are carefully selected based on practice expertise, reputation and commitment to client service. Each are market leaders in their own jurisdictions, with a dedication to the responsibility of good corporate citizenship. Rich May, P.C.'s Eric Krathwohl, Managing Director and Shareholder, was elected and currently serves as Treasurer on the network's 2019-2020 Executive Board.