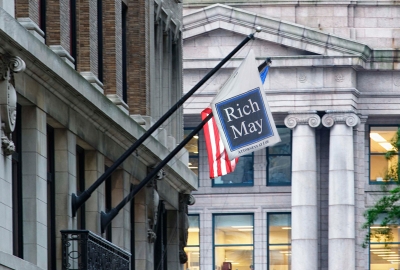 In Memoriam of Walter L. Landergan, Jr. (1928 – 2018)
In memory of our beloved friend and mentor: Walter Landergan studied, practiced, and loved the law at Rich May, P.C. from 1953 to October 5, 2018.
Walter was at the heart of Rich May for 65 years, shaping the Firm and serving as a Managing Director for nearly his whole career. He was a mentor to many young lawyers, was esteemed by his professional peers, and served as trusted counsel to his clients for decades. Walter will be missed by everyone at our Firm and by our clients. We are so pleased to have dedicated our main conference room in his name in 2016. He can never be replaced. Rest in peace, our dear friend, Walter L. Landergan, Jr.